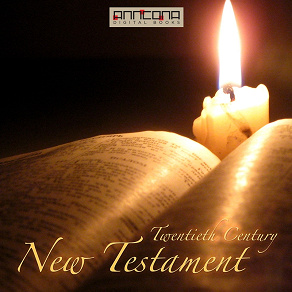 Isbn:
978-91-7605-480-2
Publisher:
Anncona Media
Category:
Religion & Beliefs
History
In english
Accessible since:
November 2015
Narrator:
J. A. Carter
Length: 18 hours 25 minutes
---
The Bible - 20th Century New Testament
The Bible - 20th Century New Testament
Published in 1904, The Twentieth Century New Testament is considered the first translation of the Bible into modern English. It was produced in Britain over a period of 15 years by approximately 20 people -- ministers, housewives, school teachers and businessmen -- who were united by their desire for a New Testament in the language of the people.
They were advised by such scholars as J. Rendel Harris and Richard Weymouth so their rendering is quite accurate. In addition they made some effort at rearranging the New Testament books in the order scholars believe they were written -- Mark comes before Matthew, for instance.
The reader will find in The Twentieth Century New Testament a delightful translation that is rewarding both for in-depth study and personal reading.
The New Testament is a collection of 27 books of 4 different genres of Christian literature (Gospels, one account of the Acts of the Apostles, Epistles and an Apocalypse). 
Jesus is its central figure. The New Testament presupposes the inspiration of the Old Testament. Nearly all Christians recognise the New Testament as canonical scripture.
The New Testament books are ordered differently in the Catholic/Orthodox/Protestant tradition, the Slavonic tradition, the Syriac tradition and the Ethiopian tradition.
The mainstream consensus is that the New Testament was written in a form of Koine Greek, which was the common language of the Eastern Mediterranean from the Conquests of Alexander the Great (335–323 BCE) until the evolution of Byzantine Greek (c. 600).
John Riches, professor of Divinity and Biblical Criticism at the University of Glasgow, provides the following view of the diverse historical influences of the Bible:
"It has inspired some of the great monuments of human thought, literature, and art; it has equally fuelled some of the worst excesses of human savagery, self-interest, and narrow-mindedness. 
It has inspired men and women to acts of great service and courage, to fight for liberation and human development; and it has provided the ideological fuel for societies, which have enslaved their fellow human beings and reduced them to abject poverty. ... 
It has, perhaps above all, provided a source of religious and moral norms which have enabled communities to hold together, to care for, and to protect one another; yet precisely this strong sense of belonging has in turn fuelled ethnic, racial, and international tension and conflict."

Total Running Time (TRT): 18 hours, 24 min. 
Listen to sample
---