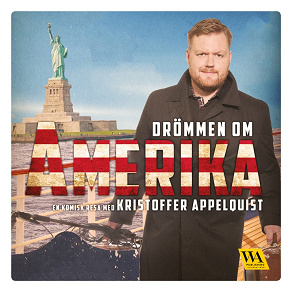 Isbn:
978-91-7829-070-3
Publisher:
Word Audio Publishing
Category:
Humour
Accessible since:
June 2018
Narrator:
Kristoffer Appelquist
Length: 44 minutes
---
Drömmen om Amerika
Kristoffer Appelquist älskar USA. Kulturen, maten, människorna. Vem som helst kan jobba sig upp och bli vad som helst. The land of opportunity. Alla kan bli president. Alla kan bli miljonär. Kristoffer DYRKAR det stora landet i väst. The land of the free and the home of the brave. I hans värld är det inte nationaldag den 6 juni. Kristoffer firar den 4 juli med tomtebloss och root beer som en sann patriot. Men i verkligheten har han aldrig varit där. För Kristoffer är Amerika en dröm!
I Kristoffer Appelquists ståuppföreställning "Drömmen om Amerika" fokuserar han på sin kärlek till USA och allt som landet står för - trots att han aldrig har varit där. Nu kan du lyssna på den hyllade showen som ljudbok - enjoy!
Listen to sample
---