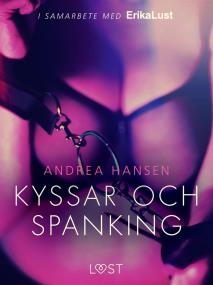 Isbn:
978-87-2615-156-5
Publisher:
LUST
Category:
Short stories
Romance
Accessible since:
February 2019
---
E-book
|
28 days for loan
Kyssar och spanking - erotisk novell
Om man håller på med en avhandling blir man ibland så uppslukad av sitt ämne att man helt glömmer världen utanför. Och skriver man om 1900-talets franska erotik kan man upptäcka nya sidor av sig själv, lustar man inte trodde fanns. När hon av en slump får ögonkontakt med en vacker man som sitter i väntrummet på hennes mammas mottagning, vill hon utforska det som hon läst så mycket om. Speciellt det som hon läst i The art of spanking...

Denna erotiska novell är utgiven i samarbete med den svenska filmproducenten Erika Lust. Hennes syfte är att skildra människans natur och mångfald genom berättelser om passion, intimitet, kärlek och lust i en kombination av starka historier och erotik.
Andrea Hansen skriver erotiska noveller och har bland annat skrivit de erotiska novellerna "Kyssar och spankning", "En ny vän" och "Käre svåger".
---