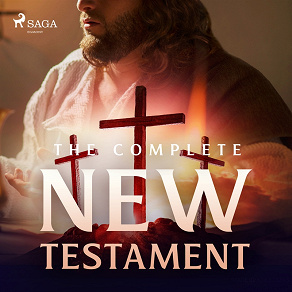 Isbn:
978-87-1170-262-8
Publisher:
Saga Egmont
Category:
Religion & Beliefs
Accessible since:
July 2020
Narrator:
Christopher Glyn
Length: 20 hours 45 minutes
---
The Complete New Testament
The King James Version of the Holy Bible is the most influential and widely published book ever written. It has been translated into over two thousand languages and is still the world's best-selling book every year. After its original publication in 1611, the King James Bible quickly became the standard for English-speaking Protestants. Its flowing language and prose rhythm has had a profound influence on the literature of the past four hundred years.
English speakers around the world are praising this new recording of the King James Bible by British narrator Christopher Glyn.


Christopher Glyn became a Christian at the age of 21, giving up a promising theatrical career in the U.K. to engage in full-time missionary work. In the 35 years since then, he has have been very active in the field of Christian radio, primarily on the Asia and African continents.
"For years it has been my dream to record an audio version of the Holy Bible, combining my training as an actor with my love for God's Word. I am happy now to have the opportunity to do so. I started the very long process of recording the Bible 3 years ago and by the summer of 2011, the entire Bible was finished. I pray with my whole heart that these readings will be a blessing and an inspiration to many."
Listen to sample
---