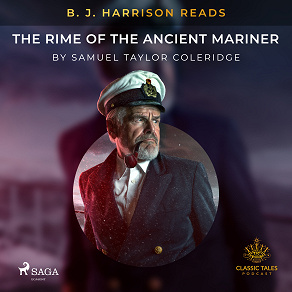 Isbn:
978-87-2657-554-5
Publisher:
Saga Egmont
Category:
Novels
Poetry
Historic facsimile
Accessible since:
March 2021
Narrator:
B. J. Harrison
Length: 36 minutes
---
B. J. Harrison Reads The Rime of the Ancient Mariner
An old grey-bearded mariner returns from a long sea voyage. He stops a guest at a wedding ceremony and tries to tell him the story of his greatest adventure. At first, the man doesn't want to listen but the mariner's glittering eyes captivates him. The sailor begins his story, which turns out to be as exciting as he claimed. 'The Rime of the Ancient Mariner' is the longest, major poem in British literature and marks the shift from romantic poetry to modern poetry. Embark on the mariner's extraordinary journey through B. J. Harrison's fantastic narration.


Samuel Taylor Coleridge (1772 - 1834) was an English philosopher, theologian, poet and critic. He is considered as the founder of the English Romantic Movement and worked closely with many other famous writer and thinkers of his time. Some of his most famous works are the two poems "The Rime of the Ancient Mariner" and "Kubla Khan", along with the major prose work "Biographia Literaria". Coleridge was one of the William Shakespeare's greatest critics.

B. J. Harrison started his Classic Tales Podcast back in 2007, wanting to breathe new life into classic stories. He masterfully plays with a wide array of voices and accents and has since then produced over 500 audiobooks. Now in collaboration with SAGA Egmont, his engaging narration of these famous classics is available to readers everywhere.
Listen to sample
---