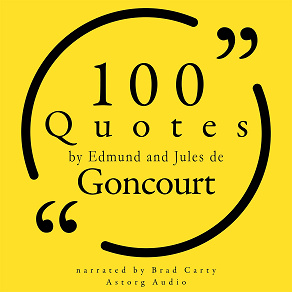 100 Quotes by Edmond and Jules de Goncourt
'100 Quotes by Edmond and Jules de Goncourt' is a collection of reflections and thoughts by the literary world's most unexpected collaborators.

Touching on everything from religion and the nature of the self to history and poetry, the brothers' ideas are strikingly similar and timelessly resonant.

An ideal book for dipping in and out of, these quotes will provide any reader with food for thought and the tools with which to spark an interesting conversation.

Known as the 'Goncourt Brothers,' Jules (1830 – 1870) and Edmond de Goncourt (1822 – 1896) were siblings, collaborative, and virtually inseparable authors. Born in France, they went on to become significant figures in the Naturalist movement and in the world of art criticism.

Their works focussed on the use of the senses, creating novels that eschewed literary logic in favour of a sensory experience. Their most famous work, 'Germinie,' threw the spotlight on the double life of their servant, Rosie.
Listen to sample
---