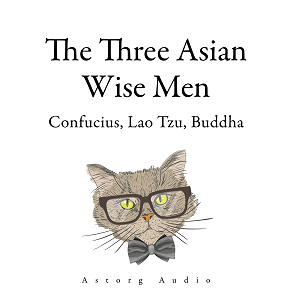 The Three Asian Wise Men: Confucius, Lao Tzu, Buddha
'The Three Asian Wise Men: Confucius, Lao Tzu, Buddha' is a collection of quotes and sayings by the three great ancient sages, whose words of wisdom continue to influence Chinese society to this day.

Architects of the three teachings: Confucianism, Buddhism, and Taoism, they created the idea of Ying and Yang, going with the flow, reincarnation, benevolent leadership and many others.

With well-known sayings such as 'Our greatest glory is not in never falling, but in rising every time we fall.' and 'It does not matter how slowly you go so long as you do not stop.", this collection is perfect if you want to understand modern-day China or just learn some wisdom that will help you in life.

Confucius (551BC – 479BC) was a Chinese philosopher and politician. Lao Tzu was an ancient Chinese philosopher and writer. Buddha was a spiritual teacher who lived during the 5th century B.C.

Confucius, Lao Tzu, and Buddha are three ancient sages whose insight and beliefs have influenced Asian and Chinese society for hundreds of years. Creators of Buddhism, Taoism and Confucianism, their words of wisdom are famous all over the world and continue to influence and help people to this day.
Listen to sample
---