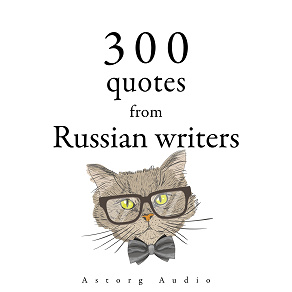 300 Quotes from Russian Writers
'300 Quotes from Russian Writers' is a carefully crafted collection of inspiration, wit, and wisdom from some of the greatest ever Russian writers, including Fyodor Dostoievsky, Léo Tolstoy and Anton Chekov.

These giants of literature are considered among the greatest writers to have ever lived and are responsible for some of the world's most influential and highly acclaimed works.

A carefully crafted collection, '300 Quotes from Russian Writers' is ideal for anyone with an inquiring mind about the musings of some of Russia's greatest authors.

Anton Pavlovich Chekhov (1860 –1904) was a Russian playwright and short-story writer who is considered to be one of the greatest writers in the world. He is best known for his works 'The Seagull' and 'Uncle Vanya'.

Fyodor Mikhailovich Dostoevsky (1821 – 1881) was a Russian novelist and short story writer. His most celebrated novels include 'Crime and Punishment' (1866), 'The Idiot' (1869), and 'The Brothers Karamazov' (1880).

Leo Tolstoy (1828 –1910) was a Russian writer who is regarded as one of the greatest writers of all time. Best known for his great novels 'War and Peace' (1869) and 'Anna Karenina' (1878).

Listen to sample
---