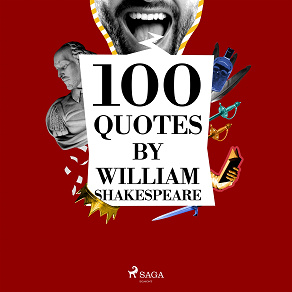 100 Quotes by William Shakespeare
This superb collection contains 100 of William Shakespeare's most celebrated quotes, including 'Is this a dagger I see before me', 'If music be the food of love, play on', and 'Uneasy lies the head that wears the crown'.

The world-famous English poet and playwright, widely regarded as one of the greatest ever writers, left a formidable body of work that continues to be performed, celebrated and quoted to this day.

Guaranteed to educate, amuse and surprise, this wonderful collection is perfect for all ages, and for anyone looking to impress their friends.

William Shakespeare (1564-1616) was an English poet and playwright. He is widely regarded as the greatest-ever English language writer and the world's pre-eminent dramatist.

His plays have been translated into every major language, while his work continues to be studied, adapted, and performed to adoring audiences worldwide. His best-known works include 'MacBeth', 'The Tempest', 'As You Like It', 'Much Ado About Nothing', and perhaps his most famous play, 'Romeo and Juliet'.

Shakespeare continues to inspire writers and filmmakers to this day, and his works have been adapted to film on numerous occasions, including 'Romeo + Juliet' (1996) starring Claire Danes and Leonardo DiCaprio, and the Apple TV film, 'The Tragedy of MacBeth' (2021) starring Denzell Washington and Frances McDormand.
Listen to sample
---