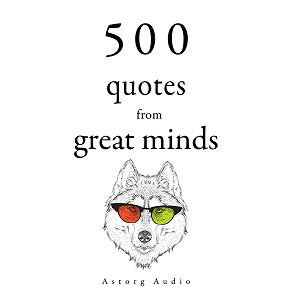 500 Quotes from Great Minds
Take a tour of some of the most extraordinary thinkers in history with '500 Quotes from Great Minds´.

Packed with cherry-picked thoughts, reflections, and observations, it offers inspiring insights into almost every aspect of life, from love and death to art and politics.

A superb addition to any coffee table, '500 Quotes from Great Minds´ is ideal for those who need a bit of extra motivation.

Born in Paris, Charles Baudelaire (1821 – 1867) was one of the most highly-regarded poets of the 19th century. His works focused on the destruction of nature in the shadow of industrialisation. Lao Zi (1368 – 1644) is credited as the founding father of Taoism. Thought to have lived at the same time as Confucius, he wrote the Tao Te Ching.

Born in Tibet, the first Dalai Lama (1391 – 1474) started life as a shepherd before studying as a monk and receiving a vision during meditation. Martin Luther King (1929 – 1969) was a Baptist minister who became the most important figure in the American Civil Rights movement. One of the founders of analytical psychology, Carl Jung (1875 – 1961) was a Swiss psychoanalyst and psychologist, who had a huge impact on psychology as a science.
Listen to sample
---