E-books / Crime & Mystery
---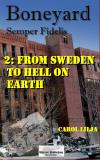 E-book
Boneyard 2 From Sweden to Hell on earth
'66, Da Nang, 'Nam. Lucas Wollberger and Craig benson is stationed at the worst possible camp in 'Nam. a camp littered with criminality, atrocities and torture.... Their main enemy ...
---
E-book
Boneyard 1-The escape from Stuttgart
Stuttgart, Gernany, 1933, the prime time for Hitler's terroror regime. This is a story of Gorenwitz family, the holocaust and WW2, the real nazi regime actions, characters may be f ...
---